Once again the awesome people from omy.sg have movie preview and I RSVP-ed right away. This time the movie we watched is Tower Heist and I liked it! Any movie starring Ben Stiler
(The guy from Night at the museum)
or Eddie Murphy
(Big momma)
is nice to watch. And of course any movie with either one of them means it's gonna be hilarious.
But both of them in the movie? Beyond hilarious!
Revenge is sweet but slow in Tower Heist, a shambling comedy about getting back at the rich that keeps its focus firmly on the mainstream. Directed by
Brett Ratner
, Tower Heist follows
Josh Kovacs
(Ben Stiller), the manager of a highly prestigious Columbus Circle high-rise in New York City. When he and his hardworking staff fall prey to a Ponzi scheme devised by of one of the tenants, wealthy Wall Street businessman
Arthur Shaw
(Alan Alda), a small group of the the workers branch off and conspire to rob his penthouse residence.
There are some nice twists in the movie and plenty of laughs which I'd give it 3.5/5 stars!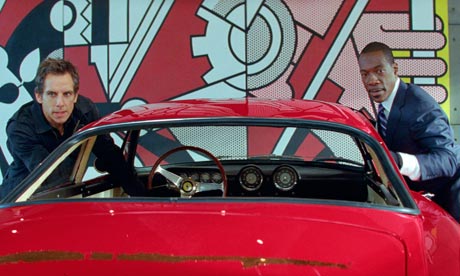 And I think the best scene in the movie comes when
Slide
(Eddie Murphy) wants to see what the four guys he's supposed to be training are made of. He tells them to steal $50 worth of merchandise from anywhere in the mall in fifteen minutes. This scene works so much better than the crass, scripted humor. The comedy was situational instead of verbal. It was effortless. And that's where it succeeded the most.
There are comedic misadventures along the way, and the usual verbal sparring and general goofiness of the characters that provide laughs.
Here's the Official trailer:
Tower Heist is out in the cinemas on
3 November 2011
! Go catch it yourself in the cinemas and enjoy it with your loved ones over the weekends!