Hahahahaha. Just came home from meeting fabulous classmates. Darius's idea. :D
Too bad Ziyang n Fish couldn't join us. :( Next time kay guy?
So we had dinner tgt. And Jon as goofy as always, decided to show me his armpit while i was eating. Disgusted ttm. But everyone used to it already la. Hah. THe rest of the guys went off while Jon, YKY, prawn n me went Ourspace to play Jenga n Taboo. I like taboo no matter what they say. HAHAHAHAH. I don't care. TABOO ROCKS. HAHA! Pictures!
Jon- almost destroying the jenga tower
Prawn- LOSER. HAHAHAHHAH.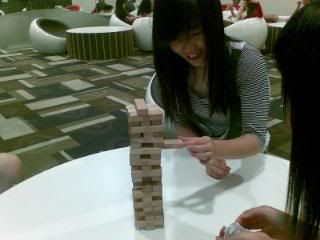 YKY- MUST. COVER. YOUR. EARS. WHEN. SHE. SHOUTS.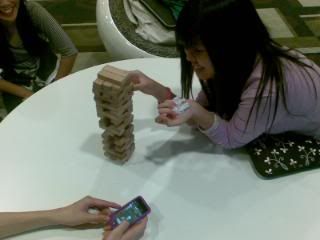 Jon- Best move ever. Hold the Jenga, pretend you didnt make the whole thing drop.